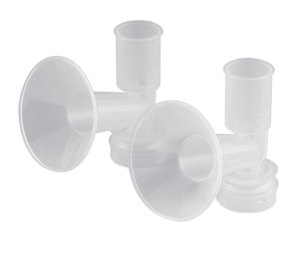 Ameda CustomFit™ Flange XL-XXL (32.5mm / 36mm)

The breast flange is the funnel-shaped piece that cups your breast. A good fit is extremely important! It can help make breast pumping comfortable and help you pump more milk. Size is everything! 
The Ameda CustomFit Breast Pump Flange Kit helps make breast pumping comfortable and helps mom pump more milk when the fit is just right.
A good fit is important! Make sure your breast flange is not too small or too large. This is where we are the specialists in ensuring that you are using the correct size flange/breastshield. At the time of delivery of your pump rental we will ensure that you are fitted for the correct size of flange, thus making sure that you are using the correct size for optimal milk production. 
Using the wrong size will cause discomfort and reduce the effectiveness of your pump. The XL-XXL CustomFit Flanges provide moms with larger breast flanges and special reducing inserts to create a smaller size for maximum pumping effectiveness.
If pumping causes discomfort, even on a low suction setting, you may need a different breast flange size. All Ameda® HygieniKit® Milk Collection Systems come with a standard size 25.0mm flange that works well for many moms, but we also offer a range of different flange sizes and inserts – our CustomFit Flange System – to ensure you find your best fit.
COMPATIBLE WITH: HygienitKit Milk Collection System, Platinum Multi-User Hospital Breast Pump, Ameda Elite Multi-User Breast Pump, Ameda Mya Joy Breast Pump, Ameda Finesse Breast Pumps, Ameda Purely Yours Breast Pumps.
Please note: the Mya Breast Flange is not compatible with the CustomFit Flange system.