I cannot say enough about how amazing the New Mummy Company is!

Zakiah Hughes
An incredible company made up of people who truly care about and are committed to supporting families.

Joanna Maselli
Impeccable WOW service - and even during this crazy epidemic!

Giuditta Gareri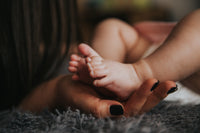 New Mummy Co
We are Canada's leading provider of in home newborn care, a female led small business with a big heart.
Our founder Maria has over 20 years experience working across the world as baby nurse to the stars.
We have taken our teams expertise working with thousands of Canadian parents to bring you the products you can trust along with our stamp of approval.