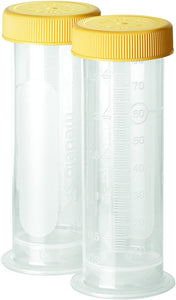 The bottles can be used to collect breast milk with any Medela pump set, to store expressed breast milk in the refrigerator or freezer.
All disposable bottles feature laser-print graduation for accurately measuring the milk volume pumped or fed.
The disposable Colostrum Container has a curved bottom to minimize loss of colostrum.
Designed for collecting, storing, handling, pasteurizing and feeding human milk
Can be used straight out of the packaging without prior cleaning: dispose after use
Saves time and improves process efficiency
Made from food-grade material and without BPA